Most recent figures published by UK Health Security Agency show that the 2022/2023 Influenza season has been worse than any of the past surveillance periods (GOV.UK, 2023), see Figure 1 (below). High level of Influenza incidence increased the burden on the National Health Service, contributing to the biggest NHS crisis in history. Those recent events highlighted even more the need for safe and effective influenza vaccine for season 2023/2024.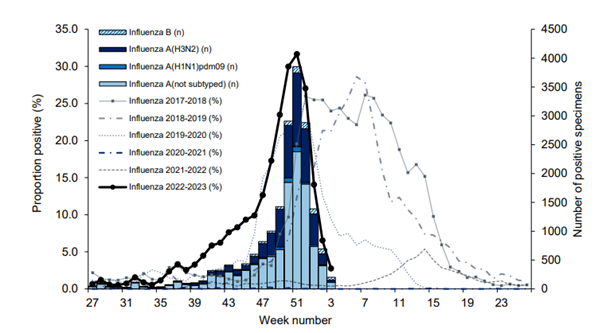 Figure 1. Weekly positivity for Influenza (%) in England, sourced form Week 4 of Weekly Flu and COVID-19 Report_w4 (publishing.service.gov.uk)
The Native Antigen Company offers season specific Haemagglutinin, and Neuraminidase antigens that will support vaccine and diagnostic reformulation programmes. As one of the world's leading suppliers of reagents that enables research into vaccines and diagnostics for emerging and endemic infectious diseases.
The Native Antigen Company will launch the 2023/24 norther hemisphere influenza antigens in rapid time after the February 2023 WHO announcement, contact us to register your interest.
The Native Antigen Company's influenza antigens were developed using the Company's proprietary mammalian expression system, VirtueE. The antigen exhibits full glycosylation and folding to ensure excellent antigenicity. The Haemagglutinin antigens feature C-terminal T4 foldon domains, stabilising them in their trimeric conformation to present more native-like conformational epitopes.
Egg-based and recombinant season specific vaccine strains are available in bulk quantities.  Click here to see our current Influenza antigens.
Quality of our products has been recognised by the leaders in the Influenza field.
'Neuraminidase is known to have enzymatic activity removing sialic acid facilitating the release of progeny virus. NA inhibiting antibodies seem to have an independent role in vaccine protection. The detection of those NA inhibiting antibodies have been recently standardised by using the enzyme-linked lectin assay (ELLA), based on the ability of NA to cleave SA residues from a substrate (fetuin). This assay can work by using viruses which in many cases a minimum of a BSL2 laboratory is needed. We have used a tetrameric NA recombinant protein synthesized by The Native Antigen Company to successfully detect NA inhibiting antibodies in sera of animals immunised with a new promising candidate vaccine.'
Dr Barbara Dema Jimenez, Immunologist from Nuffield Department of Medicine (University of Oxford)
I have sourced my custom and off-the-shelf influenza HA antigens with The Native Antigen Company since December 2019 for a variety of human antibody research projects. These projects include the comparative evaluation of seasonal vaccines in collaboration with the CDC and Mayo Clinic, and the pursuit of universal vaccine development in a vibrant collaboration with Duke University as part of their NIH Collaborative Vaccine Innovation Centers (CIVICs) program. The professionalism, attentiveness and expediency of The Native Antigen Company has been unrivaled in my experience. I can't recommend them highly enough! 
Gregory C. Ippolito, Ph.D. The University of Texas at Austin, Department of Molecular Biosciences, Austin, TX U.S.A.
References
GOV.UK (2023) National flu and COVID-19 surveillance reports: 2022 to 2023 season, Week 4. GOV.UK. Available at: https://www.gov.uk/government/statistics/national-flu-and-covid-19-surveillance-reports-2022-to-2023-season (Accessed: February 1, 2023).