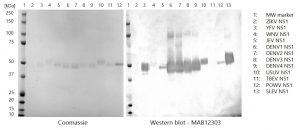 SDS-PAGE and Western blot: 100ng of flavivirus NS1 antigen was separated by SDS-PAGE, in reducing conditions. Proteins were transferred using Transblot for 7 minutes at 25V. 5% dry milk in PBS-T was used as blocking buffer and dilution buffer for antibodies. Primary antibody was diluted 1:1000, and goat anti-mouse-IgG-HRP secondary antibody (Biorad 103005) was used at 1:1000. All steps were carried out for 1h at room temperature with gentle rocking. KPL Membrane TMB was used for detection. Development time ~30 seconds.
MAB12303 recognises NS1 antigen for all four Dengue virus serotypes (DENV1-4), Yellow fever virus (YFV), Usutu virus (USUV) and Saint Louis encephalitis virus (SLEV).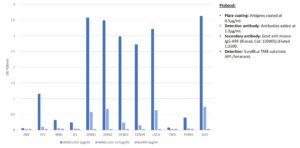 Direct ELISA: Antibody recognises DENV1-4, YFV and SLEV NS1 proteins by direct ELISA. Cross-reactivity profiles may differ, depending on conditions are used.