Chikungunya Virus E1 Envelope Protein (HEK293)
$549.28 – $2,108.19 excl. VAT
Recombinant Chikungunya virus E1 envelope protein, comprising amino acids 1 – 415 incorporating a C-terminal 6XHis tag, expressed in mammalian HEK293 cells. 95% purity.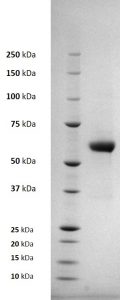 SDS-PAGE: Reducing SDS-PAGE gel showing purified Chikungunya E1 envelope protein running with an expected MW of approximately 60kDa.
CHIKUNGUNYA VIRUS E1 ENVELOPE PROTEIN (HEK293)
Chikungunya Virus E1 Envelope protein is a unique product that has been developed in response to the need for high purity, properly assembled and glycosylated Chikungunya virus antigens for use in the development of Chikungunya virus diagnostics and in vaccine development and R&D (including use as an immunogen). Chikungunya Virus E1 Envelope protein is produced in human cell lines using state-of-the-art expression techniques.
PRODUCT DETAILS – CHIKUNGUNYA VIRUS E1 ENVELOPE PROTEIN (HEK293)
Recombinant CCHFV E1 Envelope protein (NCBI accession number AIN41199.1, amino acids 1-415).
This protein consists of amino acids 1-415, with a C-terminal His-tag.
Produced in HEK293 cells and stored in 20mM Tris-HCl pH 7.8, 210mM NaCl.
BACKGROUND
Chikungunya virus is a member of the genus Alphavirus in the family Togaviridae. Chikungunya fever is a mosquito-borne disease first identified in Tanzania in 1953. Since 2004 there have been extensive outbreaks in Africa and Asia, and in 2013 the first cases were identified in the Caribbean, and by September 2014 more than 650,000 cases had been reported in the Americas. Chikungunya fever usually starts 2–4 days after chikungunya virus infection, with clinical symptoms including high fever, rash, headache, vomiting, myalgia, and severe joint pain.
Because the virus is transmitted by the same mosquitos that transmit Dengue Virus and Zika Virus, and the clinical symptoms of infection with the viruses are also similar, it is important to be able to distinguish diagnostically between the different infections. Because the use of aspirin and other NSAIDs can increase the risk of haemmorhage in Dengue fever, patients should be treated as having Dengue fever until a diagnosis of Dengue fever has been excluded.