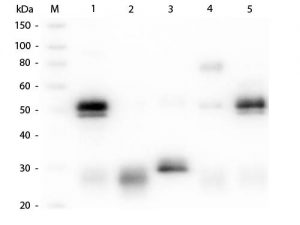 Western Blot of Anti-Rabbit IgG (H+L) (Goat) Antibody. Lane M: 3 µl Molecular Ladder. Lane 1: Rabbit IgG whole molecule. Lane 2: Rabbit IgG F(ab) Fragment. Lane 3: Rabbit IgG F(c) Fragment. Lane 4: Rabbit IgM Whole Molecule. Lane 5: Normal Rabbit Serum. All samples were reduced. Load: 50 ng per lane. Blocked for 30 min at RT. Primary Antibody: Anti-Rabbit IgG (H+L) (Goat) Antibody 1:1,000 for 60 min at room temperature. Secondary antibody: Anti-Goat IgG (Donkey) Peroxidase Conjugated Antibody 1:40,000 in blocking buffer for 30 min at room temperature. Predicted/Observed Size: 25 and 50 kDa for Rabbit IgG and Serum, 25 kDa for F(c) and F(ab), 70 and 23 kDa for IgM. Rabbit F(c) migrates slightly higher.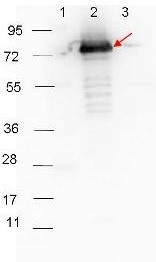 Western Blot of Anti-Rabbit IgG (H+L) (Goat) Antibody. HRP-conjugated Goat-Anti-Rabbit secondary antibody was used at 1:40,000 in blocking buffer to detect a Rabbit primary antibody by Western Blot. Anti-P27 antibody showed detection of 0.1 µg of recombinant P27 protein. Lane 1: Molecular weight markers. Lane 2: MBP-P27 fusion protein (arrow; expected MW: 73.3 kDa). Lane 3: MBP alone. Protein was run on a 4-20% gel, then transferred to 0.45 µm nitrocellulose and blocked with 1% BSA-TTBS overnight at 4°C. Blot was imaged on the VersaDoc MP 4000 imaging system (Bio-Rad).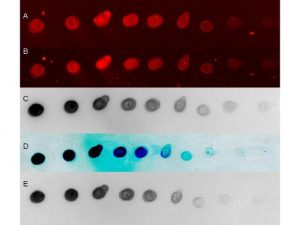 Detection using different imaging platforms. Serial 1:1 dilution of control Rabbit IgG protein (250ng starting total load) co-incubated with HRP conjugated Goat anti-Rabbit IgG and Dylight 649 conjugated Goat anti-Rabbit 1:20K in blocking buffer. Blot was dried and imaged (A) on Biorad Versa Doc (30 sec, DyLight649), (B) LiCor Odyssey Reader (700 nm), (C) Rewetted incubated with Femtomax 110 reimaged using BioVersaDoc (for 60 sec), (D) Incubated with TMB substrate TMBM for 5 minutes and scanned, and (E) Rewetted for Chemiluminescence and imaged for 90 sec on the BioRad VersaDoc Imager.