Influenza B [B/Victoria/35/2013] Neuraminidase (NA), His-Tag
$486.51 – $1,705.39 excl. VAT
This recombinant influenza virus neuraminidase protein is derived from the NA sequence of B/Victoria/35/2013, expressing aa 44-466, and fused with a polyhistidine tag at the C-terminus. The influenza virus neuraminidase protein is manufactured in HEK293 cells with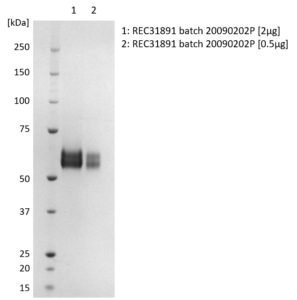 SDS-PAGE: Coomassie-stained reducing SDS-PAGE showing purified Influenza B [B/Victoria/35/2013] Neuraminidase (NA) protein.
INFLUENZA B [B/VICTORIA/35/2013] NEURAMINIDASE (NA), HIS-TAG
This Influenza virus neuraminidase protein is derived from the NA sequence of B/Victoria/35/2013, expressing aa 44-466, and fused with a polyhistidine tag at the C-terminus. The influenza virus neuraminidase protein is manufactured in HEK293 cells.
PRODUCT DETAILS – INFLUENZA B [B/VICTORIA/35/2013] NEURAMINIDASE (NA), HIS-TAG
Recombinant Influenza A neuraminidase of B/Victoria/35/2013 (NCBI Accession Number: ANF29495.1), amino acids 44-466 and a C-terminal His-tag.
Expressed in HEK293 cells, and purified from culture supernatant by immobilised metal affinity chromatography and buffer exchange.
Presented as liquid in DPBS and greater than >95% purity by SDS-PAGE.
BACKGROUND
Influenza B is a member of the Orthomyxoviridae family. It has an enveloped structure and segmented negative sense RNA genome, with similar organization to that of influenza A virus, and is an important cause of respiratory infections in humans globally (Kanegae et al., 1990). Since 1983, influenza B viruses have been classified into two distinct lineages according to their antigenicity and gene sequences: B/Victoria/2/87-like (Victoria) and B/Yamagata/16/88-like (Yamagata) (Rota et al., 1983; Pica & Palese, 2013). Gene segment reassortment between and within these lineages has contributed to the genetic diversity of this virus. WHO convenes technical consultations in February and September each year to recommend viruses for inclusion in influenza vaccines for the northern and southern hemisphere influenza seasons, respectively. Flu vaccines are based on predicting which mutants of H1N1, H3N2, H1N2, and influenza B will proliferate in the next season. Separate vaccines are developed for the Northern and Southern Hemispheres in preparation for their annual epidemics. One influenza A (H1N1), one influenza A (H3N2), and one or two influenza B viruses (depending on the vaccine) are included in each season's influenza vaccines (CDC, 2019). Along with neuraminidase (NA), hemagglutinin (HA) is an antigenic glycoprotein on the surface of the influenza virus that can also induce the production of neutralizing antibodies. HA is responsible for viral binding to the cell membranes of host cells, and has therefore been used as a key antigen for the development of vaccines.
REFERENCES
Centers for Disease Control and Prevention. (2019). Influenza (Flu).
Kanegae Y, Sugita S, Endo A, Ishida M, Senya S, Osako K, et al. Evolutionary pattern of the hemagglutinin gene of influenza B viruses isolated in Japan: cocirculating lineages in the same epidemic season. J Virol. 1990;64:2860–5.
Pica N, Palese P. Toward a universal influenza virus vaccine: prospects and challenges. Annu Rev Med. 2013;64:189–202.
Rota PA, Wallis TR, Harmon MW, Rota JS, Kendal AP, Nerome K. Cocirculation of two distinct evolutionary lineages of influenza type B virus since 1983. Virology. 1990;175:59–68.