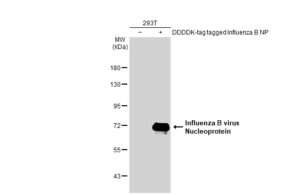 Western Blot: Non-transfected (–) and transfected (+) 293T whole cell extracts (30 μg) were separated by 7.5% SDS-PAGE, and the membrane was blotted with MAB12480 diluted at 1:5000. A HRP-conjugated anti-rabbit IgG antibody was used to detect the primary antibody.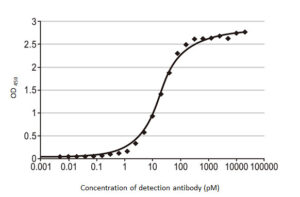 ELISA: Indirect ELISA analysis performed by coating plate with recombinant full-length Influenza B virus nucleoprotein (50 ng). Coated protein was probed with MAB12480 (20000-4.77*10-3 pM). Rabbit IgG antibody (HRP) (1:10000) was used to detect bound primary antibody. EC50: 18.81 Pm.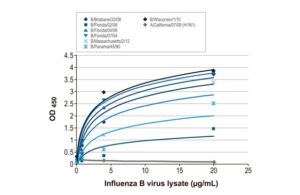 ELISA: Sandwich ELISA detection of viral lysate derived from different strains of Influenza A virus (i.e., A/California/07/09 (H1N1)) and Influenza B virus (i.e., B/Brisbane/33/08; B/Florida/02/06; B/Florida/04/06; B/Florida/07/04; B/Massachusetts/2/12; B/Panama/45/90; B/Wisconsin/1/10) using MAB12480 for Capture (5 μg/mL), and MAB12481 for Detection (1 μg/mL).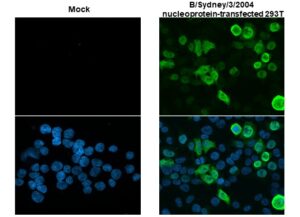 ICC/IF: MAB12480 detects overexpressed Influenza virus Nucleoprotein protein by immunofluorescent analysis. Mock and transfected 293T cells were fixed in 4% paraformaldehyde at RT for 15 min. Green shows Influenza B virus Nucleoprotein stained by Influenza B virus Nucleoprotein antibody MAB12480 diluted at 1:2000.