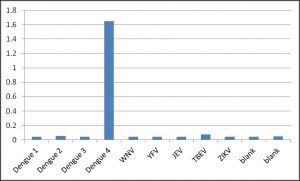 ELISA assay was performed using antigen at 0.5µg/ml and antibody at 1µg/ml. ELISA plates coated on bench overnight in 0.1M Carbonate pH 9.6, 100µl/well, washed once in wash buffer 300µl/well (TBS + 0.1% tween 20) and blocked 2 hours in 1% BSA in D-PBS 300µl/well. Antibodies diluted to working strength in diluent (DPBS + 1% BSA + 0.05% Tween 20 + 0.2% Proclin 950). Added at 100µl/well and incubated 2 hours shaken at ambient temperature. Washed 3 x 300µl/well. Goat anti Mouse IgG-HRP (Biorad103005) diluted 1 in 2500 in diluent, added at 100µl/well and incubated with shaking 1 hour at ambient. Plate washed 6X300µl/well. TMB (KPL Sureblue 5120-0077) added at 100µl/well. Reaction for screening assay stopped by addition of 1M HCl 100µl/well.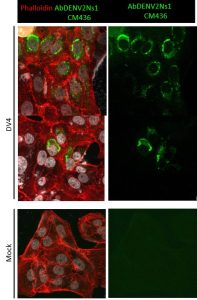 Image by Virology Research Services Ltd
Immunofluorescence was carried out in Vero cells. Cells were seeded on coverslips and infected with DENV (serotypes 1, 2, 3 and 4) for 48h at MOI 1. Control coverslips consisted of uninfected Vero cells. After fixation with 4% PFA, samples were stained with Mouse anti-Dengue virus NS1 antibody (AbDENV14NS1-CM436). Antibody was diluted 1:500 and Triton X-100 was used as detergent. Imaging was performed using a Leica SP5 confocal microscope. Immunofluorescence was observed in DENV serotype 4 infected cells using AbDENV14NS1-CM436, as shown above (Virology Research Services Ltd).