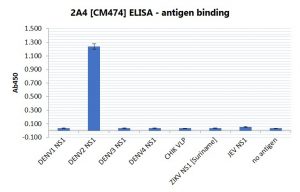 An ELISA plate was coated with 100ng of antigen per well, then blocked with 2% BSA. Primary antibody was used at a concentration of 1ug/ml, and the detection antibody used was Goat anti-mouse IgG:HRP (Bio-Rad, 1:2000). The substrate used was TMB (KPL).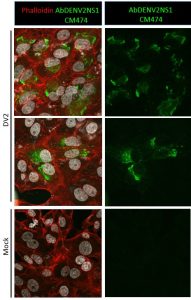 Image by Virology Research Services Ltd
Immunofluorescence was carried out in Vero cells. Cells were seeded on coverslips and infected with DENV (serotypes 1, 2, 3 and 4) for 48h at MOI 1. Control coverslips consisted of uninfected Vero cells. After fixation with 4% PFA, samples were stained with Mouse anti-Dengue virus NS1 antibody (AbDENV2NS1-CM474). Antibody was diluted 1:500 and Triton X-100 was used as detergent. Imaging was performed using a Leica SP5 confocal microscope. Immunofluorescence was observed in DENV serotype 2 infected cells, stained with AbDENV2NS1-CM474, as shown above (Virology Research Services Ltd).