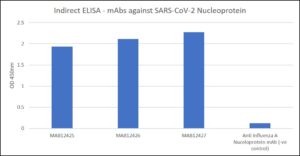 Indirect ELISA: mAbs vs. recombinant SARS-CoV-2 (COVID-19) nucleoprotein.
Assays were run as below:
Antigen was coated at 2 µg/ml PBS overnight at RT, washed 2X with PBS + 0.3% tween-10 (PBST).
Wells blocked with 1% normal goat serum in PBS a minimum of 30 minutes.
Antibodies applied at 1 µg/ml PBST for 30 min at RT, washed 2X with PBST. Note: anti Influenza A Nucleoprotein included as a negative control antibody.
Goat antibody to mouse IgG+ IgM/HRP conjugate (Jackson Immuno) at 0.5 µg/ml in PBST for 30 minutes at RT. Washed 2X with PBST.
TMB added for 1 minute.