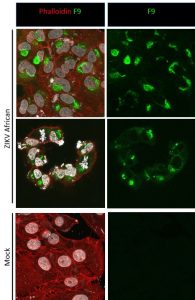 Image by Virology Research Services Ltd
Immunofluorescence: Vero cells were seeded on coverslips infected with ZIKV (African or Asian strains) for 30h at MOI 0.5. Control coverslips consisted of uninfected Vero cells. After fixation with 4% PFA, samples were stained with Mouse anti-Zika virus NS1 (AbZIKVNS1-F9). Antibody was diluted 1:500 and Triton X-100 was used as detergent. Imaging was performed using a Leica SP5 confocal microscope. Immunofluorescence for African strain (but not Asian) was observed; the African strain is illustrated above (Virology Research Services Ltd).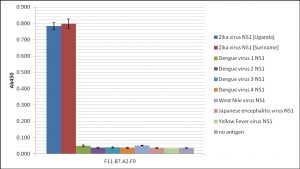 ELISA assay: An ELISA plate was coated with 100ng of antigen per well, then blocked with 2% BSA. Primary antibody was used at a concentration of 1ug/ml, and the detection antibody used was Goat anti-mouse IgG:HRP (Bio-Rad, 1:2000). The substrate used was TMB (KPL).