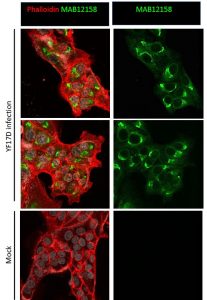 Immunofluoresence data: Vero cells were seeded on coverslips and infected with Yellow Fever 17D virus (YF17D) for 24 h at MOI 2. Control coverslips consisted of uninfected cells. After fixation with 4% PFA, samples were stained with the antibodies. Antibody was used at a dilution of 1:1000 dilution and Triton X-100 was used as detergent. Imaging was performed using a Leica SP5 confocal microscope (Image by Virology Research Services Ltd).
Read our blog for more information.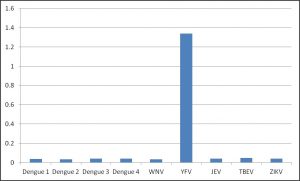 Direct ELISA: Assay showing specificity of MAB12158 for Yellow Fever Virus NS1. NS1 antigens from different flaviviruses were coated on an ELISA plate at 0.5ug/ml, and detected with MAB12158 at 0.01ug/ml, visualized with Goat anti-mouse IgG:HRP.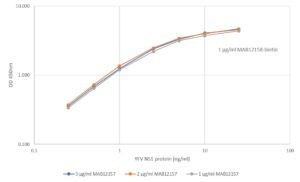 Sandwich ELISA: ELISA plates coated with MAB12157 were used to capture YFV NS1 protein followed by detection with biotinylated MAB12158.