Immunofluorescence data: Hela cells were transfected with plasmids expressing Ebola Zaire glycoprotein, nucleoprotein or VP40, seeded on coverslips and incubated for 48 h. Control coverslips consisted of untransfected cells. After fixation with 4% PFA, samples were stained with PAB21440. Antibody was used at a dilution of 1:500 and Triton X-100 was used as detergent. Imaging was performed using a Leica SP5 confocal microscope (Images by Virology Research Services Ltd).
Read our blog for more information.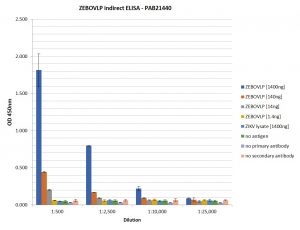 Direct ELISA: A Nunc Maxisorp plate was sensitized with ZEBOVLP in various amounts, or Zika virus lysate at 1400 ng/well in 200mM carbonate buffer pH9.2. Then, plate was blocked with 2% BSA in carbonate buffer. Primary antibody was used at various concentrations in PBS-T plus 2% BSA. AbD Serotec's STAR88P antibody was used as detection abtibody at 1:4,000 dilution. All steps were carried out for 1h at room temperature. Three wash steps using PBS-T were used in between each step.
SDS-PAGE and Western blot: Various amounts of ZEBOVLP antigen were separated on a 4-12% discontinuous PAA SDS-PAGE under reducing conditions. Western blot was performed using 5% dried milk powder in PBS-T as blocking and antibody diluting agent. STAR88P (AbD Serotec) was used as detection antibody at 1:2000 dilution. Western blots were developed using TMB Membrane (KPL).