Rotavirus VP6 Now Available
The Native Antigen Company now offers a rotavirus VP7 antigen, in addition to our native lysate and anti-VP6 monoclonal antibody. Our rotavirus reagents can be used in a wide range of applications, including research, assay development and antibody generation.
Rotaviruses
Rotaviruses are significant enteric pathogens, and are the leading cause of diarrhoeal disease among infants and children. There are 9 types of rotavirus, of which rotavirus A is the most clinically relevant. Rotaviruses are globally endemic, and are a major cause of morbidity and mortality, causing hundreds of thousands of deaths per year, particularly in the developing world.
Rotavirus virions are non-enveloped, containing 11 dsRNAs that collectively encode 12 proteins. The rotavirus capsid consists of three concentric layers, comprised of various structural proteins: VP2 forms the inner-most layer that houses the genome, VP6 forms much of the inner capsid, and VP7 forms the outer surface of the virion, from which VP4 Spikes protrude and mediate receptor binding.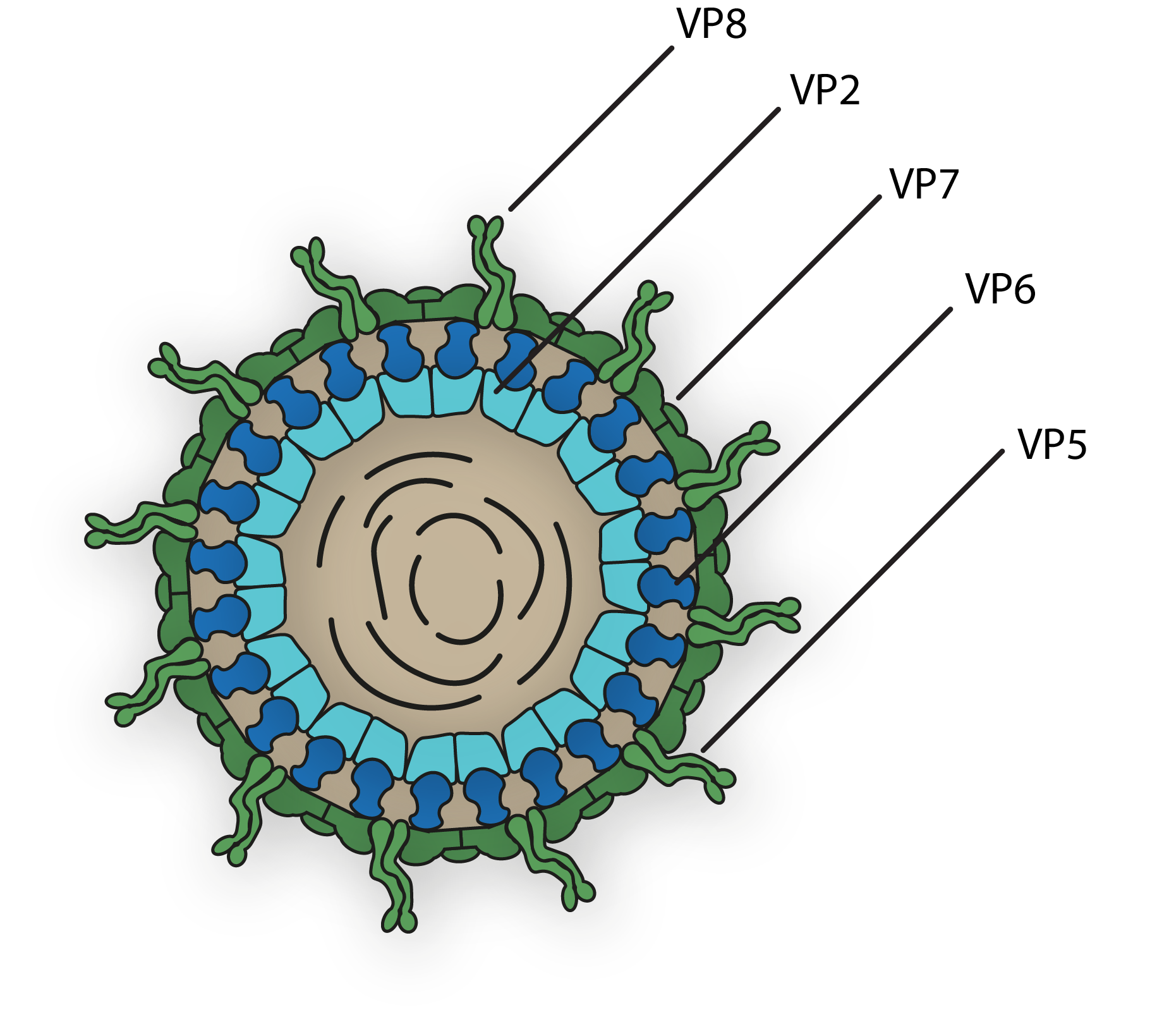 Our Rotavirus Reagents
To support rotavirus research and development, The Native Antigen Company now offers rotavirus A VP7, expressed from our proprietary HEK293 expression system. As a glycoprotein, mammalian expression of this antigen ensures full glycosylation and proper folding for maximal performance in assays. For more information on this product, click on the button below:
In addition, we also offer a native rotavirus cell lysate. Produced by propagation of rotavirus (WA strain) in MA-104 cells, which are lysed, purified, heat-inactivated and verified with tissue-culture infectivity assays. For more information on this product, click on the button below:
Our mouse anti-VP6 monoclonal antibody is specific to the rotavirus VP6 antigen and does not cross-react with other enteric pathogens, such as Campylobacter spp., C. difficile, E. coli, Listeria monocytogenes, Salmonella spp., Shigella spp., Y. enterocolitica, Enterovirus, Norovirus, Astrovirus, Adenovirus, Cryptosporidium parvum, Giardia lamblia, H. pylori, E. histolytica, and S. aureus. For more information on this product, click on the button below: