The Native Antigen Company first gained prominence in 2016, when it developed highly pure Zika virus NS1 protein during the 2015/2016 epidemic. Since then, the company has developed an extensive range of highly specific antigens, antibodies and immunoassays for flavivirus research. In the second of a 2-part series, we discuss the value of using highly-specific NS1 antibodies and present our panel for use in serological diagnostics.
NS1 protein
Non-structural protein (NS1) is a multi-functional protein, conserved across flavivirus species. It plays a distinct function in immune evasion, pathogenesis and viral replication. NS1 is highly immunogenic in its secreted, hexameric form, and is strongly expressed during acute phase, primary infections, making it an ideal marker for diagnostics. For a more detailed overview of NS1's structure and function, you can read our previous blog.
Why do we need highly-specific anti-NS1 antibodies?
The major challenge in developing effective NS1 immunoassays arises because of NS1's close structural relationship between flaviviruses. Take the Zika and Dengue viruses for example. The structural similarity between Zika and Dengue in particular can result in high levels of cross-reactivity when applying serological assays aimed at detecting either virus. In other words, a patient with previous Dengue virus infection is at risk of testing positive in a Zika immunoassay, even in the absence of Zika. This lack of specificity (and the associated risks of misdiagnosis) can be deleterious to the quality of both epidemiological data and academic research, not to mention the development for effective vaccines and therapeutics.
Right: A cross-reactive IgG antibody is able to bind to the similar, conserved epitopes of Zika and Dengue NS1 hexamers, causing cross-reactivity and false-positive results in immunoassays.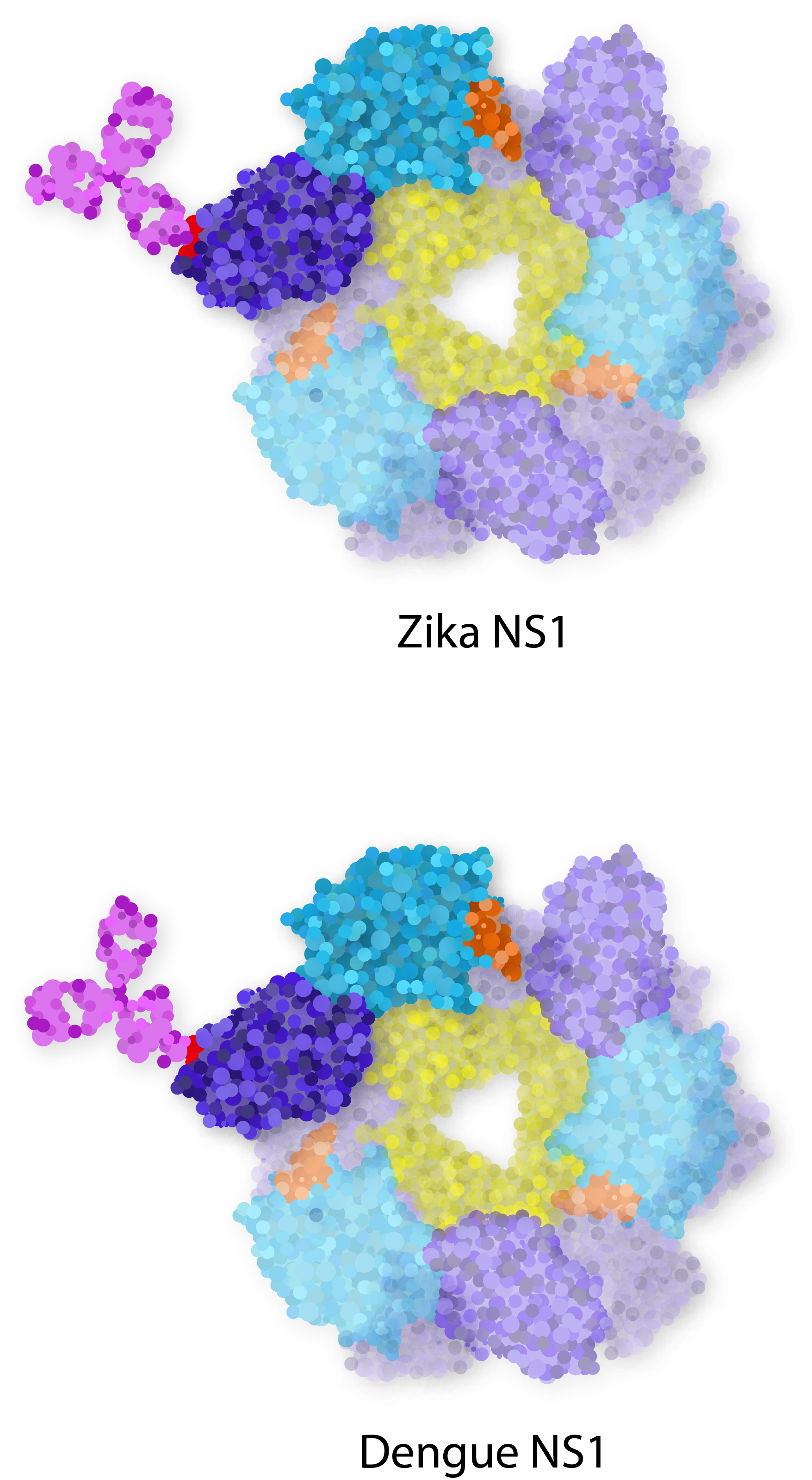 Our highly specific NS1 antibodies
The Native Antigen Company has produced an extensive range of mammalian-expressed NS1 proteins, used to raise highly specific and characterized antibodies. We provide high specificity antibodies for a wide range of flaviviruses and in most cases, provide customers with a choice of reagents to find the most appropriate for their intended application. Our antibodies are suitable for ELISA, Immunofluorescence and Western Blot. In particular, our antibodies can be used for the measurement of NS1 levels by sandwich ELISA and LFAs to accurately diagnose flavivirus infections.
Yellow Fever Virus Antibodies
Dengue immunofluorescence images produced by Virology Research Services of YFV- and DENV-specific antibodies binding in infected Vero cells.
What about cross-reactive antibodies?
In addition to highly specific antibodies, we have a number of new antibodies that show unique patterns of cross-reactivity with different NS1 proteins by binding conserved NS1 epitopes found across flavivirus species. These can provide valuable insights into structural similarities between NS1 from different viruses.
Humanised antibodies
We have also converted some of our mouse monoclonal antibodies into human IgG and IgM versions, providing unique reagents that can be used as controls in serological assays for detecting NS1 responses. A further panel of humanised Zika antibodies are currently in development.
Click on the product previews below to find out more:
We offer a large panel of serotype-specific antibodies to Dengue NS1 that show no cross-reactivity with other Dengue serotypes or flaviviruses, including Zika, Yellow Fever and West Nile virus. We also offer pan-serotype mouse monoclonal antibodies that show little-to-no cross-reactivity with other flaviviruses.
We offer 7 monoclonal antibodies that are highly specific to Zika virus NS1 protein. These do not cross-react with any other flavivirus NS1 proteins, allowing highly specific detection of Zika NS1 protein. In addition to purified versions of these antibodies, we also offer biotin-conjugated formats, facilitating the use of antibody pairs in immunoassay development.
We offer 6 mouse monoclonal antibodies to NS1, which are suitable for the development of specific immunoassays. These antibodies have been tested against our renowned mammalian-expressed, recombinant proteins, and are suitable for use in both ELISA and Western blot applications.
Using our recombinant WNV NS1 protein, we have raised two mouse monoclonal antibodies specific to WNV NS1 protein, which show no cross-reactivity with NS1 proteins from other flaviviruses, including Dengue, Yellow Fever and Japanese Encephalitis viruses
We have used our recombinant JEV NS1 proteins to raise 6 antibodies to JEV NS1, all of which are highly specific and show no cross-reactivity with NS1 proteins from other flaviviruses, including Dengue, Yellow Fever and West Nile viruses.
The Native Antigen Company offers a range 5 mouse monoclonal antibodies that recognise Powassan virus NS1 protein, suitable for the development of specific immunoassays. This antibody has been tested against our mammalian-expressed, recombinant NS1 proteins, and shown to cross-react with TBEV NS1, but not with any other flavivirus NS1 proteins tested.