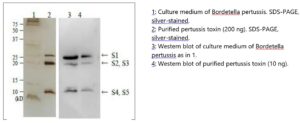 Western Blot: Detection of pertussis toxin in culture medium of Bordetella pertussis strain Tohama by Western blotting using anti-pertussis toxin antibody. The toxin consists of five subunits as indicated by S1 to S5.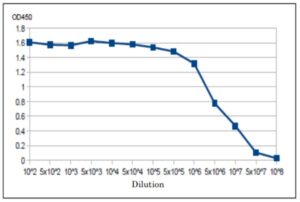 ELISA: Titration of antibody reactivity of anti-Pertussis antiserum by direct ELISA. Plate was coated with 100μg of pertussis toxin per well and 100μl of the antiserum at the indicated dilution was added to each well and incubated. After washing, goat anti-rabbit-IgG conjugated with HRP was added as secondary antibody. Colour was developed with TMB as substrate.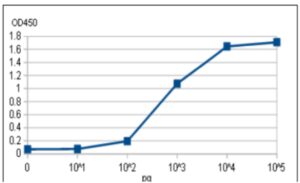 ELISA: Titration of pertussis toxin by direct ELISA using anti-pertussis toxin antiserum. ELISA plate is coated with indicated amounts of pertussis toxin per well. Antiserum was used at 1/12,500 dilution. ELISA was performed as above. Dynamic range was 100 pg to 10 ng under these conditions.