Noroviruses are a diverse group of seasonal RNA viruses that cause acute gastrointestinal infections in humans and animals. Due to the rate at with noroviruses undergo genetic shift, the immunity that they induce is typically short-lived and specific to the genotype in question. This has made the development of norovirus vaccines particularly challenging, as broad and long-lasting protection has proven difficult to achieve.
Due to the ongoing COVID-19 pandemic and implementation of lockdowns, human exposure to noroviruses has decreased sharply, leading to a decline in population immunity. As countries re-open, it is therefore likely that significant norovirus outbreaks will occur, requiring the development of various countermeasures.
To support norovirus R&D, The Native Antigen Company offers a range of norovirus-like particles and monoclonal antibodies, and is currently developing further reagents. For more information on these products, see our data below:
Our VLPs are non-infectious and safe to use, while displaying native-like epitopes and glycosylation patterns. A study by Metz and colleagues, for example, showed that our VirtuE™-expressed dengue VLPs exhibit comparable epitopes to native viral particles. Our VLPs are suitable for a wide range of applications, including the development of in vitro diagnostic assays and vaccines. The highly repetitive structural patterns presented by VLPs also makes them ideal antigens for raising high-avidity antibodies.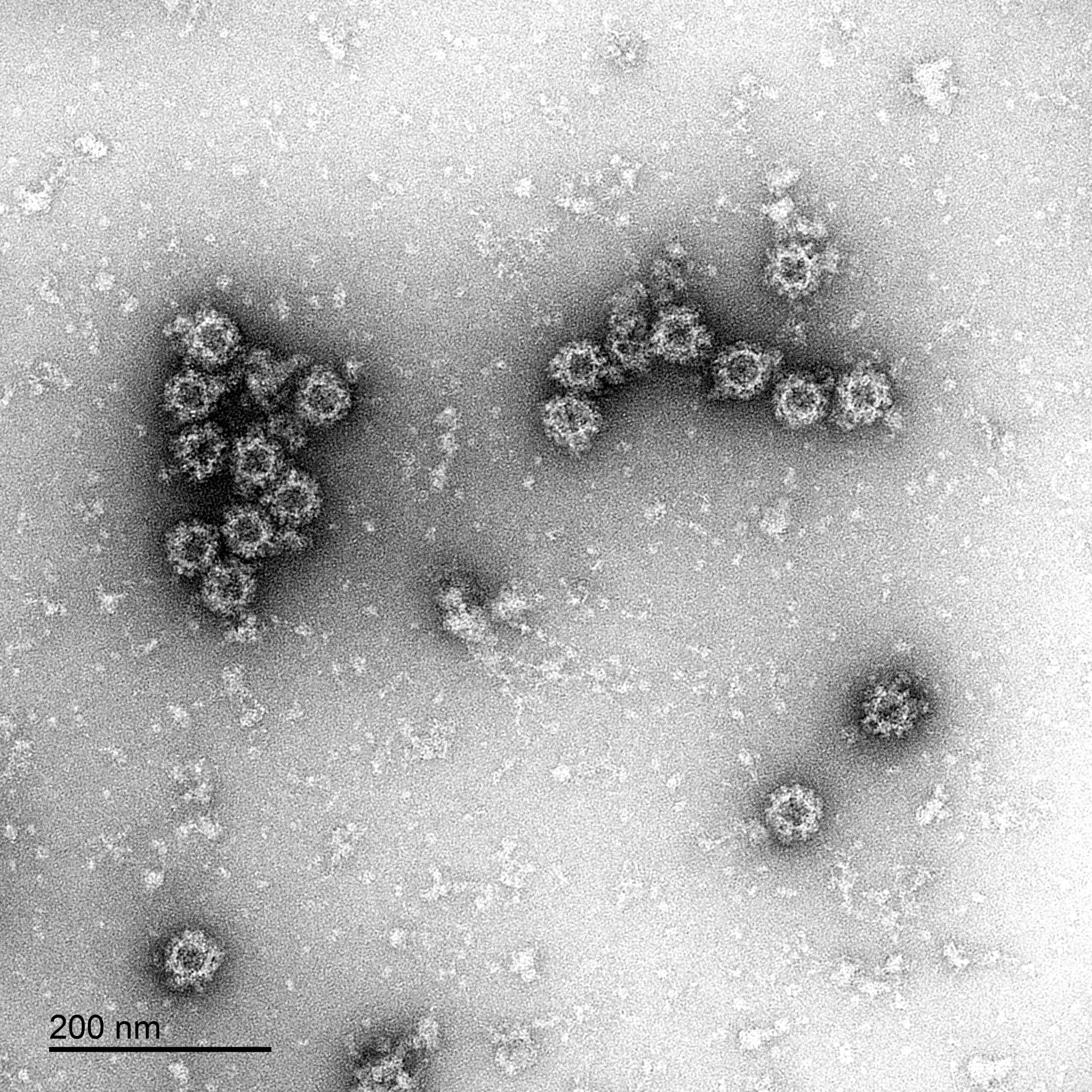 Negative staining electron micrograph of our norovirus-like particles (strain Hu/GI.1/CHA6A007/2010/USA).
Reducing SDS-PAGE of our norovirus-like particle VP1 proteins, migrating as a band of approximately 60kDa.
For more information on each of our norovirus-like particles, click the buttons below or get in touch with a member of our team: 
Our mouse anti-norovirus GI and GII monoclonal antibodies are genogroup-specific and have shown not to react with adenovirus, astrovirus, Campylobacter jejuni, Clostridium difficile, Cryptosporidium parvum, enterovirus, Escherichia coli, Giardia lamblia, Helicobacter pylori, Hepatitis A, Listeria monocytogenes, rotavirus, respiratory syncytial virus, Salmonella, Shigella, Staphylococcus aureus and Yersinia enterocolitica.